RIDE ROADS, GRAVEL OR DIRT WITH THIS ALL-NEW ALUMINUM ALL-ROUNDER. A COMPOSITE FORK GIVES IT A SMOOTH RIDE, AND A FLIP CHIP LETS YOU ADJUST WHEELBASE AND TIRE CLEARANCE.
Confident handling
Frame is designed with endurance positioning and shorter chainstays for precise handling, agility and control. A longer reach, shorter stem and lower bottom bracket drop improves stability on rugged terrain.
Tuned compliance
New frame features thinner, dropped seatstays to absorb road shocks and vibrations. D-Fuse handlebar and seatpost work as a system to add compliance without sacrificing stiffness while cornering, sprinting or climbing.
Adaptable to the terrain
A flip chip on the rear dropout adjusts the wheelbase short for quicker handling and acceleration, or long for improved stability at speed. The long setting allows for larger diameter tires up to 53mm. You can choose the included D-Fuse seatpost for maximum compliance, or switch to a 30.9mm round or dropper post.
Sizes

XS,S,M,ML,L

Colours

Black Diamond,Sapphire

Frame Material

ALUXX-Grade Aluminum, 12x142mm thru-axle, disc, flip chip dropout

Tire

Giant CrossCut AT 2 Tubeless\, 700x38C

Tire Size

700C

Tire Size - Measuring Unit

MM

Gear

-

Fork

Advanced-Grade Composite\, Full-Composite OverDrive one Steerer\, 12x100mm thru-axle\, flat mount disc

Stem

Giant Sport

Headset

A66ACML H=15.7 wo LG

Front Derailleur

Shimano Sora

Handlebar

Giant Connect XR Ergo-Control\, 31.8mm

Seatpost

Giant D-Fuse Alloy Offset 14mm

Shifters

Shimano Sora 2x9

Rear Derailleur

Shimano Sora long cage

Grip

Cork Tape w/ Gel VLT-001G

Shock

-

Crankset

FSA Vero Pro\, 32/48

Saddle

GIANT Approach with GIANT patented UniClip & ParticleFlow technology

Pedals

GA\,Pan-Eu: no pedal\, GU\,GV\,GJ:Platform pedal Rest GSC :Pedal w/Toe clip and strape

Brakes

Tektro MD-C550

Hubs

Giant S-X2 Disc 700C wheelset Front / Rear thru axle

Cassette

CH-HG400\, 11x34

Brake levers

Shimano Sora

Spoke

Giant S-X2 Disc 700C wheelset Front / Rear thru axle

Chain

KMC X9 with Missing Link

Rims

Giant S-X2 Disc 700C wheelset Front / Rear thru axle

Bottom Bracket

Cartridge

Domestic Warranty

1

Domestic Warranty
- Measuring Unit

Year

International Warranty

1

International Warranty
- Measuring Unit

Year

Sales Package

Cycle

Ideal For

All Cycling Enthusiast
*All specifications and prices listed are subject to change without notice.
SIZING GUIDE AND GEOMETRY
Sizing to be used as a reference only. Please check with a local authorized dealer to determine the correct size.
Available sizes may vary from country to country.
XS

155 cm

166 cm

S

159 cm

171 cm

M

169 cm

181 cm

ML

174 cm

186 cm

L

179 cm

191 cm

XL

189 cm

200 cm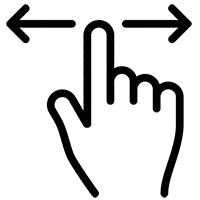 XS
S
M
ML
L
XL

A

Seat Tube Length

(mm)

(inch)

430

450

470

490

510

530

B

Seat Tube Angle

(degrees)

74°

73.5°

73.5°

73°

73°

73°

C

Top Tube Length

(mm)

(inch)

540

550

560

575

585

600

D

Head Tube Length

(mm)

(inch)

125

135

150

165

180

195

E

Head Tube Angle

(degrees)

70°

71°

71.5°

72°

72°

72°

F

Fork Rake

(mm)

(inch)

50

50

50

50

50

50

G

Trail

(mm)

(inch)

78 | 82

72 | 75

68 | 72

65 | 68

65 | 68

65 | 68

H

Wheelbase

(mm)

(inch)

1029 | 1039

1025 | 1035

1030 | 1040

1035 | 1045

1045 | 1055

1061 | 1071

I

Chain Stay Length

(mm)

(inch)

430 | 440

430 | 440

430 | 440

430 | 440

430 | 440

430 | 440

J

Bottom Bracket Drop

(mm)

(inch)

80 | 81

80 | 81

80 | 81

80 | 81

80 | 81

80 | 81

K

Stack

(mm)

(inch)

556

570

586

602

616

630

L

Reach

(mm)

(inch)

381

381

387

391

397

407

M

Stand Over Height

(mm)

(inch)

717 | 724

734 | 741

752 | 759

769 | 776

786 | 793

801 | 810

N

Handlebar Width

(mm)

(inch)

420

420

440

440

460

460

O

Stem Length

(mm)

(inch)

70

80

90

100

100

110

P

Crank Length

(mm)

(inch)

170

170

172.5

172.5

175

175

Q

Wheel Size

700x 42C | 50C

700x 42C | 50C

700x 42C | 50C

700x 42C | 50C

700x 42C | 50C

700x 42C | 50C