FAST GRAVEL, ROUGH GRAVEL, PAVEMENT OR DIRT. HOWEVER YOU CHOOSE TO ROLL, THIS BIKE DOES IT ALL. A NEW COMPOSITE FRAMESET AND ADJUSTABLE WHEELBASE MAKE IT MORE CAPABLE THAN EVER.
Fast and light
New Advanced composite frame and fork save more than 160 grams compared to previous model. Updated geometry includes a lower bottom bracket, longer reach and steeper headtube angle for improved acceleration and climbing.
Tuned compliance
New frame features thinner, dropped seatstays to absorb road shocks and vibrations. D-Fuse handlebar and seatpost work as a system to add compliance without sacrificing stiffness while cornering, sprinting or climbing.
Adaptable to the terrain
A flip chip on the rear dropout adjusts the wheelbase short for quicker handling, or long for improved stability at speed. The long setting allows for larger diameter tires up to 53mm. You can also choose the included D-Fuse seatpost for maximum compliance, or switch to a 30.9mm round or dropper post.
Sizes

XS,S,M,ML,L

Colours

Carbon,Terracotta

Frame Material

Advanced-Grade Composite\, flat mount disc\, 12x142mm thru-axle\, Disc\, Max tire 53mm at long RC

Tire

Giant CrossCut AT 1 Tubeless\, 700x38C

Tire Size

700C

Tire Size - Measuring Unit

MM

Gear

20

Fork

Advanced-Grade Composite\, Full-Composite OverDrive one Steerer\, 12x100mm thru-axle\, flat mount disc

Stem

Giant Contact\, 8 Degree

Headset

NO.56E alloy wo crown wo LG W/MR180 BEARING H=10.4

Front Derailleur

Shimano GRX RX-400

Handlebar

Giant Contact XR D-Fuse\, 31.8mm 5? back sweep \, flare drop

Seatpost

Giant D-Fuse Composite Offset 14mm

Shifters

Shimano GRX RX400

Rear Derailleur

Shimano Tiagra

Grip

Stratus Lite 3.0

Shock

-

Crankset

FSA Omega 32/48\, all black outlook

Saddle

GIANT Approach with GIANT patented UniClip & ParticleFlow technology

Pedals

GA\,Pan-Eu: no pedal\, GU\,GV\,GJ:Platform pedal Rest GSC :Pedal w/Toe clip and strape

Brakes

Shimano RX400

Hubs

Giant P-X2 DIsc 700C Wheelset\, 25mm inner width 12mm Thru Axles

Cassette

Shimano Tiagra\, 11x34

Brake levers

Shimano RX400 HRD

Spoke

Giant P-X2 DIsc 700C Wheelset\, 25mm inner width 12mm Thru Axles

Chain

KMC X10-1

Rims

Giant P-X2 DIsc 700C Wheelset\, 25mm inner width 12mm Thru Axles

Bottom Bracket

Shimano\, PressFit

Domestic Warranty

1

Domestic Warranty
- Measuring Unit

Year

International Warranty

1

International Warranty
- Measuring Unit

Year

Sales Package

Cycle

Ideal For

All Cycling Enthusiast
*All specifications and prices listed are subject to change without notice.
SIZING GUIDE AND GEOMETRY
Sizing to be used as a reference only. Please check with a local authorized dealer to determine the correct size.
Available sizes may vary from country to country.
XS

155 cm

166 cm

S

159 cm

171 cm

M

169 cm

181 cm

ML

174 cm

186 cm

L

179 cm

191 cm

XL

189 cm

200 cm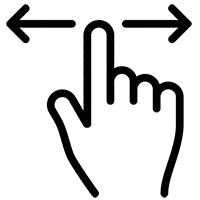 XS
S
M
ML
L
XL

A

Seat Tube Length

(mm)

(inch)

430

450

470

490

510

530

B

Seat Tube Angle

(degrees)

74°

73.5°

73.5°

73°

73°

73°

C

Top Tube Length

(mm)

(inch)

540

550

560

575

585

600

D

Head Tube Length

(mm)

(inch)

125

135

150

165

180

195

E

Head Tube Angle

(degrees)

70°

71°

71.5°

72°

72°

72°

F

Fork Rake

(mm)

(inch)

50

50

50

50

50

50

G

Trail

(mm)

(inch)

78 | 82

72 | 75

68 | 72

65 | 68

65 | 68

65 | 68

H

Wheelbase

(mm)

(inch)

1024 | 1034

1020 | 1030

1026 | 1036

1031 | 1041

1041 | 1051

1056 | 1066

I

Chain Stay Length

(mm)

(inch)

425 | 435

425 | 435

425 | 435

425 | 435

425 | 435

425 | 435

J

Bottom Bracket Drop

(mm)

(inch)

80 | 81

80 | 81

80 | 81

80 | 81

80 | 81

80 | 81

K

Stack

(mm)

(inch)

556

570

586

602

616

630

L

Reach

(mm)

(inch)

381

381

387

391

397

407

M

Stand Over Height

(mm)

(inch)

724 | 731

740 | 747

757 | 764

774 | 780

791 | 797

807 | 814

N

Handlebar Width

(mm)

(inch)

420

420

440

440

460

460

O

Stem Length

(mm)

(inch)

50

60

70

80

80

90

P

Crank Length

(mm)

(inch)

170

170

172.5

172.5

175

175

Q

Wheel Size

700C

700C

700C

700C

700C

700C